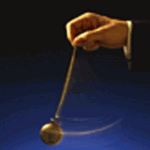 What do you think of hypnosis? Might you be surprised to hear that hypnosis has been accepted by the American Psychological Association? And that there is recent research that strongly supports the so-called trance stare? Hypnosis has a fascinating and controversial history but today it deserves some respect. Still, it's not a cure-all. Take a trip with me through the history of this fascinating topic on The Psych Files.
It is clear that the main interest of film and television is in hypnosis as absolute control over others. This obviously plays to popular fears and fantasies…[the purpose of film] is to entertain and it's not entirely realistic on any subject. But the distortion and vilification of hypnosis go far beyond that of other psychological phenomena…In trying to discourage false beliefs about hypnosis — discounting stage hypnosis, past life and alien abduction phenomena — we may, at times, veer too far toward making hypnosis sound boring. Information on actual dramatic developments within the field and descriptions of how enjoyable and fascinating the experience of hypnosis can be may be more effective at combating false images than is relentless debunking. – Dierdre Barrett, Hypnosis in Film and Television (2006)
Resources on Hypnosis
Here's an excellent perspective on how hypnosis has been portrayed in the media, along with a list of films using hypnosis as part of the plot: Hypnosis in Film and Television by Dierdre Barrett of Harvard Medical School
The Story of Psychology
Pioneers of Psychology (Third Edition)
Kirsch and Lynn 1995 – The altered state of hypnosis: changes: the theoretical landscape. American Psychologist, 50, 846-858
Thanks to John Mohl, student representative from Division 30 of the APA, for the link to this article, "Important Notice Regarding Hypnosis and the American Medical Association" which informs readers that, as John said in an email, "…the AMA is officially neutral on hypnosis."
John also recommends this website, The Willmarth Hypnosis Interviews, where you'll find video interviews and more info on hypnosis. Thanks again John.