The Premiere Psychology Podcast since 2007. Over 18 million downloads Over 5,000 downloads a day MERLOT award winner, covered in the APA Monitor, the History Channel and NPR. Reviews: "An amazing podcast…" "Great for ….anyone interested in psychology" "Britt is brilliant"
My first book! Learn about Psychology's most famous studies as well as recent ones that are fun and provide insight on human psychology. Step-by-step instructions on how to carry out 50 psychology studies.
Get Better Grades with the Psych Mnemonics App!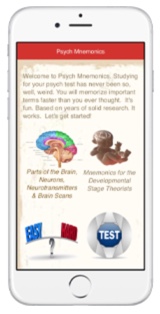 After 13 years and 340 episodes, The Psych Files was "retired" in January of 2020. However, this site continues to be visited over 300 times a day by the many students and teachers who have found valuable content here during that time. So, while the podcast itself is discontinued, feel free to look around the site.