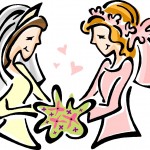 How did you get to be heterosexual? Homosexual? Bisexual? Was it nature or nurture (or both?). Pink v Blue is always a popular topic. In this episode I present the most recent scientific research on the topic of how we develop our sexual preference. You'll find out whether heterosexual men have more testosterone than homosexual men, how most people know their sexual orientation when they are as young as 10 years old (blame your adrenal gland), how your third interstitial nucleus might be playing a role and finally, could it have something to do with the length of your fingers? Find out in this episode of The Psych Files.
"…we should…be asking ourselves why we as a society are so emotionally invested in this research. Will it – or should it – make any difference in the way we perceive ourselves and others or how we live our lives and allow others to live theirs? – William Byne: The Biological Evidence Challenged (1994, Scientific American)
Correction: In the first version of this episode I incorrectly estimated the number of homosexuals in the US. Assuming a US population of about 260 million with about 1/2 female and 1/2 male, then 2% (females) and 3% (males) of 260 million would equal about 6 and a half million total. I updated the audio file to include this corrected information.
Resources on Sexual Orientation
If you would like to see the concept map I used to hold my notes for this episode click here: sexual orientation.