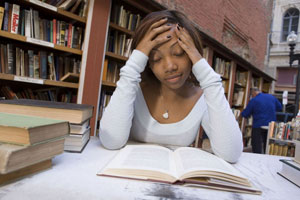 Don't be frustrated with low grades. If you want to know how to study for exams and get good grades then this is the episode for you.
I've got 5 techniques that will help you get better grades, develop effective study skills, and I'll give you one very important warning about something you may be doing that you have to stop! Find out how to improve your college study skills.
How to Study Effectively
Want to improve your study skills? Here is the latest research on the topic:
The 5 techniques and 1 warning on effective study skills:
Retrieval practice: don't just re-study – test yourself (and test yourself in the same way that you expect you will be tested).
Test yourself again and again – (spaced repetition) not just once per term. Space this testing out. Do some today, then test yourself on what you learned tomorrow. Then go on to the next topic This repeated spaced-our testing will help solidify the meaning of what you're studying in your brain
Explain what you're learning to yourself (or a patient friend). Get up and walk around the room or talk to yourself in the car (people will think you're on the phone). Lecture yourself on the material you will be tested on.
Distinctiveness: how is this term you're learning different from some other idea? How is it similar? Figure out what is unique about the ideas you're learning about.
Personal: when you can, apply the ideas to your own life. You'll remember it better that way.
Warning: Beware of familiarity!! Just because you have read something before or heard it somewhere before doesn't mean you understand it. The only way to know if you understand it is to….test yourself (start over at step 1 above!).
Resources on Effective Studying
Dr. Steven Chew, Samford University: How to Study Long and Hard and Still Fail…or How to Get the Most Out of Studying
Hyde, T.S., & Jenkins, J.J. (1969). Differential effects of incidental tasks on the organization of recall of a list of highly associated words. Journal of Experimental Psychology, 82, 472-481.
Level of Processing study: Shallow processing: "Does the word have the letter E?". Deep processing: "Rate the word on pleasantness." This forces you to think about the meaning of the word or to relate the word to your life, to other information you already know, or it asks you to create visual imagery.
Intent to learn had no effect – it's good, but if you really want to remember things, you're going to have to work harder
Deep processing resulted in better recall whether participants intended to learn the words or not
Automaticity: practice something enough and it becomes automatic.
Bottom line: you have to study actively!