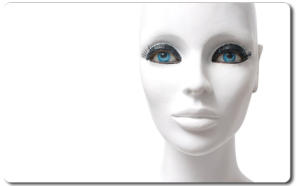 Does it matter if a robot looks male or female? You might not think so, but are we perpetuating stereotypes if if we create a robot that looks "feminine" to help the elderly aren't we continuing the stereotype that these types of jobs are "women's" jobs? If we create "masculine" looking robots to work outside and do adventurous, heavy lifting jobs aren't we discouraging young women from entering such jobs? Something to think about. Also, have you ever said (like I have) "Like a girl"? What effect does that have on young girls? Isn't it, upon reflection, a derogatory thing to say – implying that girls are weak and uncoordinated? And how about "Be a man" – doesn't that encourage young boys to distance themselves from their feelings?
Let's take a look then at stereotypes. Sometimes we actually like them. We're proud of our social identities. But we also don't want to be limited by them either. It's a conundrum.
And we address the question: is this generation more narcissistic that past ones? Find out in this episode of The Psych Files.
Get All of My Mnemonics and Get Better Grades with my Psych Mnemonics App!
[image src="6524″ alt="Psychology Mnemonics Apps" href="" title="" info_content="" lightbox_caption="" id="" class="" style=""][image link="true" target="blank" src="6463″ alt="Psych Mnemonics app for iOS" href="http://bitly.com/PM_Homepage" title="The PsycExplorer app for iOS" info_content="" lightbox_caption="" id="" class="" style=""][image link="true" target="blank" src="6527″ alt="" href="http://bit.ly/PM_AndroidHomepage" title="" info_content="" lightbox_caption="" id="" class="" style=""][vc_row padding_top="0px" padding_bottom="0px"][vc_column fade_animation_offset="45px" width="1/1″]
Resources for this Episode