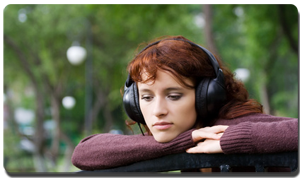 What's wrong with thinking positively? Could be a lot (see this recent article The Power of Negative Thinking). Let's take another look at the so-called "power of positive thinking" in this episode of The Psych Files podcast. I'll share some ideas for bringing about more positive events in your life, talk about social comparison theory, and then discuss how important "negative" – that is sad – feelings are in our lives. Those are moments not to run from, but to embrace.
Resources For This Episode
Here's an interesting article that appeared in the BBC News entitled, Self-help 'makes you feel worse'. The article summarizes a study showing that the repetition of positive affirmations (such as "I am a confident person" can actually make some feel people feel worse about themselves. Very interesting study.
Time magazine article (February 11, 2008): "Happiness: Enough Already" Sharon Begley
Social Comparison Theory
Definition: whenever we are uncertain about ourselves, our skills, our talents, etc., we tend to compare ourselves to other people. Typically we compare to people similar to ourselves in some way (same age, similar background, belong to the same group for example). But we can make upward and downward comparison.
Upward Comparison: you compare your self to someone who is either older, more experienced, more talented, more well off, etc. Comparisons of this type will probably make you feel worse about yourself.
Downward Comparison: the opposite of the above: you compare yourself to someone who is less fortunate than you. These comparisons will probably remind you of how fortunate you are and will make you feel better about yourself.
Ancient philosophers and spiritual teachers understood the need to balance the positive with the negative, optimism with pessimism, a striving for success and security with an openness to failure and uncertainty. – The Power of Negative Thinking
Sad Songs mentioned in this episode
Played at the end of the episode: the "Intermezzo" from the opera Cavaleria Rusticana by Mascagni.
"O Mio Babbino Caro" from the opera Gianni Schicchi by Puccini
The Moonlight Sonata by Beethoven
Tristesse by Chopin
Lakme Duet (also called the Flower Duet) from the opera Lakme by Delibes
Claire de Lune by Debussey
Feel free to suggest other beautiful sad songs in your comments to this post!