How can you find the best videos on YouTube? In this video episode of The Psych Files you are going to learn some crazy power tips that will alert you whenever whenever a video from a credible source gets added to a YouTube playlist. You will be the first to know. And you can find out not only by receiving an email, but – if you want – you can also get a phone call when that video is ready for you! Don't waste your time – there are some crazy new ways to efficiently search the web and here is how I do it.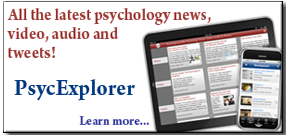 Click here to find our more about this amazing app!
Resources to Help You Search the Web Efficiently
Here's a link to my app, PsycExplorer iPhone
Thanks to Charles Schallhorn, who has some great materials on his YouTube Channel
Here's the "magic code" you saw used in the video to create rss feeds from YouTube playlists: http://gdata.youtube.com/feeds/api/playlists/put-playlist-ID-here
Here's the very cool site you can use (for free) to have email and/or phone alerts sent to you: IFTTT. Explore this tool for all kinds of other possibilities!