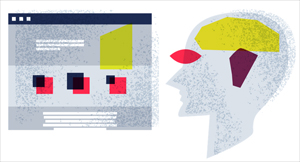 How can you use psychology to design a website so people are likely to buy products from you? Or design a website so people are likely to donate money to your cause? In this episode Dr. Susan Weinschenk discusses some of these ideas from her book Neuro Web Design. Ever thought you could apply brain science to web design? Find out how in this episode of The Psych Files.
Resources for this Podcast
Here is Susan Weinschenk's blog where you'll find lots of more information about her and her work.
Dr. Weinschenk also has a website devoted to her book Neuro Web Design.
Dr. Weinschenk mentioned in the interview a very interesting site called Kiva. Here's a little information about the site from their homepage, "Kiva lets you lend to a specific entrepreneur in the developing world – empowering them to lift themselves out of poverty."
Related episode: In episode 31, Lemon Slices and a New Face on Mars! Gestalt Principles at Work, I talked about how Gestalt principles are used in designing web sites.

Image compliments of Best Masters in Psychology Degrees