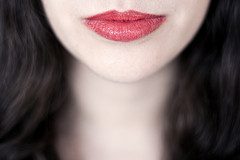 photo credit: beast love via photo pin cc
Do women who work in typically male dominated jobs "play down" their femininity in order to be gain more respect from their male co-workers?
In this episode we'll explore stereotype threat (also known as stereotype vulnerability) as well as something you may not have heard of: the lipstick effect. How do men and women change their appearance or their behavior during times of economic depression? In this all-gender episode we look at these issues as well as why the new Volkswagen Beetle has changed its appearance. Yes, the 2012 Volkswagen Beetle has become more masculine, but why?
The fear of proving a negative stereotype true actually causes someone to underperform – and this can account for girls' underperformance in math and science. Why Stereotype Threat Keeps Girls Out of Math and Science, and What to Do About It
If girls consistently believe they are scoring poorly in math and science because they are biologically not cut out for it, they are less likely to pursue those fields of study at any level. The same goes for Black and Latino children as well. And that's why its important to change the way we talk about test taking and performance. – Why Stereotype Threat Keeps Girls Out of Math and Science, and What to Do About It
"One way to counteract [stereotype threat] is to introduce a growth mindset." For example, …. teachers and parents [should] emphasize the "expandability" of knowledge – by explaining that test-taking can build-brains, rather than framing the test as a way to see how smart students are. – Why Stereotype Threat Keeps Girls Out of Math and Science, and What to Do About It